US Federal Reserve Balance Sheet to Grow to 100x Bitcoin's Marketcap
Summary
The US Federal Reserve's balance sheet is currently 60x greater than Bitcoin's market cap. This number is projected to increase to 100x following quantitative easing amid COVID-19.
Bitcoin's limited supply and inflation prevent hyperinflation.
As global markets suffer immense losses, many countries have turned to economic relief plans to cushion markets. This has resulted in rapid growth in the global currency supply and thus inflation. With inflation rising, investors have turned to limited inflation assets like gold and Bitcoin. Both Bitcoin and gold are seeing unprecedented price correlation.
Furthermore, the rapid growth of the US Federal Reserve balance sheet will prove to be a boon for Bitcoin's value proposition.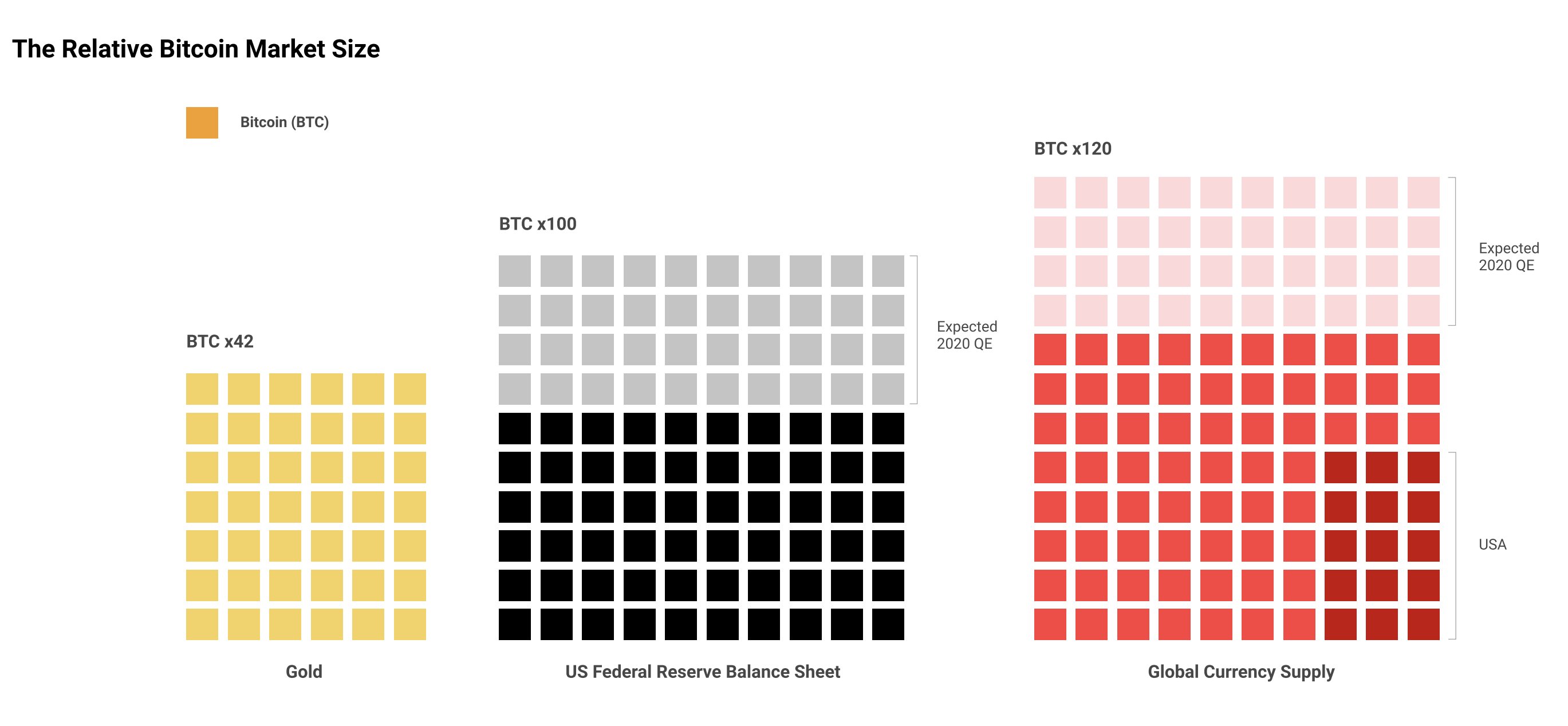 According to Glassnode, a blockchain data firm, the US Federal Reserve balance sheet may reach $10 trillion by 2020. The balance sheet has already skyrocketed from $4 trillion in January to over $6.5 trillion in April. With no end in sight, the Federal Reserve's balance sheet can grow past $10 trillion, furthering Bitcoin's value proposition as a hedge against hyperinflation.
Furthermore, as countries around the world employ economic relief programs, the global currency supply is expected to increase by 50%. Inflation is expected to rise significantly as global currency supply skyrockets.
Bitcoin Inflation Rate
The rapid increase in the US Federal Reserve balance sheet amid COVID-19 may be a boon for Bitcoin. With Bitcoin's supply capped, the inflation rate will never exceed what was predetermined.
US inflation rate is projected to top at 2.73% amid COVID-19, comparatively higher than Bitcoin's inflation rate of 1.8% following the Bitcoin halving. The Bitcoin halving, occurring in a little over 7 days, will halve new Bitcoin emission, bringing the inflation rate from over 3% to 1.8%.
Disclaimer: Content displayed on thecryptoassociate.com is not investment advice. Investors should do their own research before investing in digital assets or anything displayed on this site. The Crypto Associate does not recommend trading any sort of investment in cryptocurrencies and digital assets. The Crypto Associate is not responsible for any losses incurred due to the buying or selling of cryptocurrencies displayed on this site. All content is for informational purposes only. The Crypto Associate does not endorse, affiliate or represent any third-party links including advertisements. The Crypto Associate participates in affiliate marketing. Read the full disclaimer