Bitcoin Hashrate Surpasses All-Time High
Summary
Bitcoin hashrate surpasses all-time high
1D average hashrate reaches 139 EH/s
Bitcoin network hashrate surpasses the previous all-time high. The 1D average hashrate surpassed the previous all-time high of 138 EH/s. Bitcoin's increase in hashrate is driven primarily by the upcoming Bitcoin halving.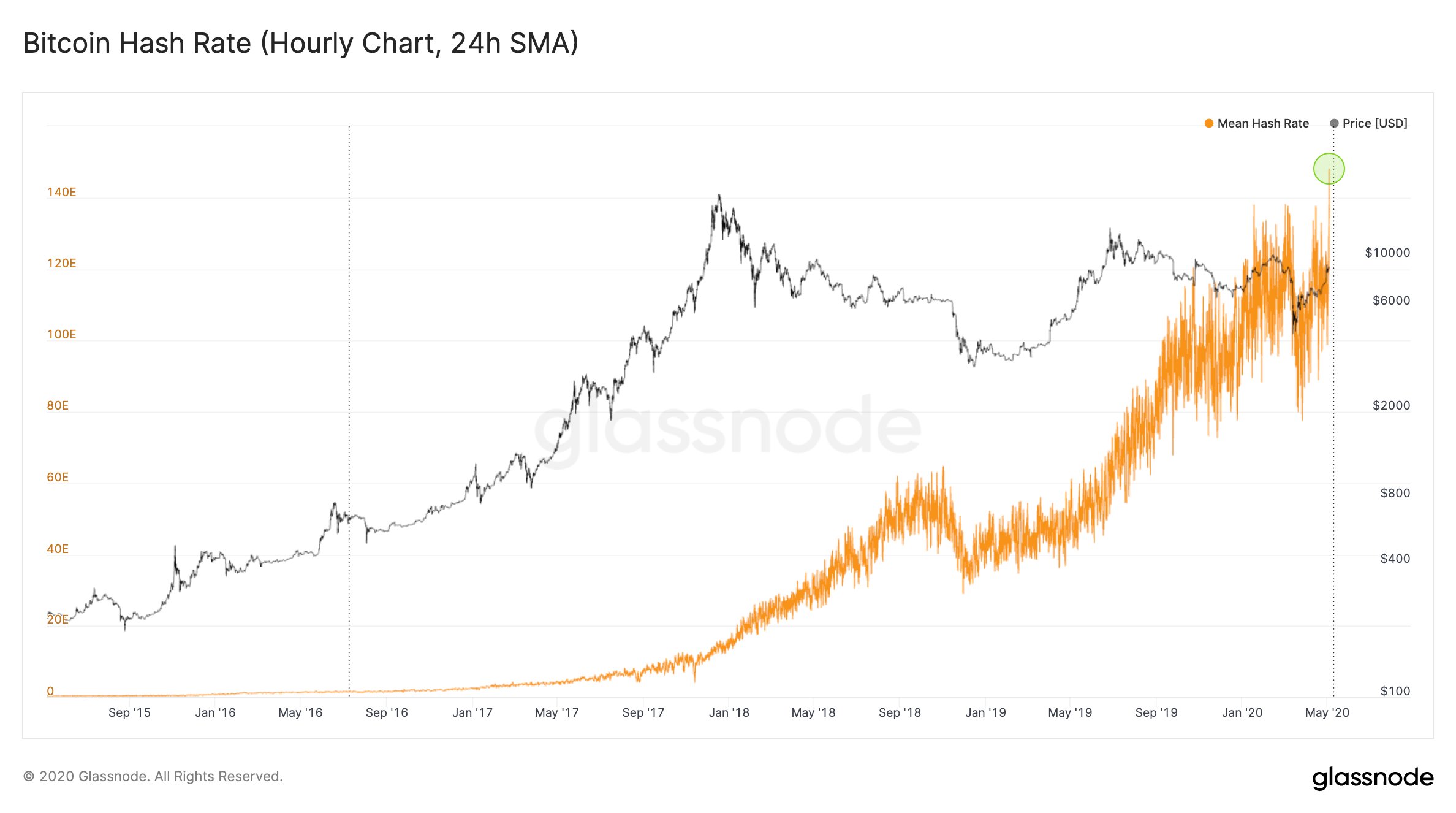 Bitcoin hashrate has been very volatile in 2020 Q1, an unusual sight due to usually stability that comes with a large POW cryptocurrency. At one point this year, Bitcoin's hash rate dropped to 70 EH/s, half of what is currently. This is equivalent to over 77 million S19 Pro miners (worth over $200B in hardware) leaving the network.
Network Difficulty
With the sudden increase in hashrate, the Bitcoin network difficulty has skyrocketed. The current network difficulty is 15.96T. While this is only a 15% increase from January, Bitcoin's network difficulty adjusts roughly every two weeks. Thus the next difficulty adjustment will be far more accurate.
The increase in mining difficulty results in miners earning less Bitcoin than prior to the difficulty increase. However, Bitcoin's price has been in an uptrend which means an increase in difficulty doesn't necessarily mean that miners will mine at a loss.
Bitcoin Halving
The highly anticipated Bitcoin halving is occurring in just over 8 days. The halving will cut miner profits in half by reducing the block reward from 12.5 BTC to 6.25 BTC. As a result, miners are flocking to mine Bitcoin before the halving.
Furthermore, Bitcoin's price has surged prior to the halving. With Bitcoin rising in fiat value, mining Bitcoin may be more profitable than other SHA-256 cryptocurrencies. Thus, many miners have switched to the BTC blockchain, pushing the hashrate past its all-time high.
Disclaimer: Content displayed on thecryptoassociate.com is not investment advice. Investors should do their own research before investing in digital assets or anything displayed on this site. The Crypto Associate does not recommend trading any sort of investment in cryptocurrencies and digital assets. The Crypto Associate is not responsible for any losses incurred due to the buying or selling of cryptocurrencies displayed on this site. All content is for informational purposes only. The Crypto Associate does not endorse, affiliate or represent any third-party links including advertisements. The Crypto Associate participates in affiliate marketing. Read the full disclaimer