Total Bitcoin Miner Revenue Crosses $17.5 Billion As Hash Rate Rises
Quick Take
Total Bitcoin miner revenue has crossed $17.5 billion.
Bitcoin hash rate continues to climb, poising Bitcoin for another significant difficulty adjustment.
Bitcoin's total miner revenue has crossed $17.5 billion, according to Glassnode, a cryptocurrency analytics platform. Total Bitcoin miner revenue is also known as "Thermocap".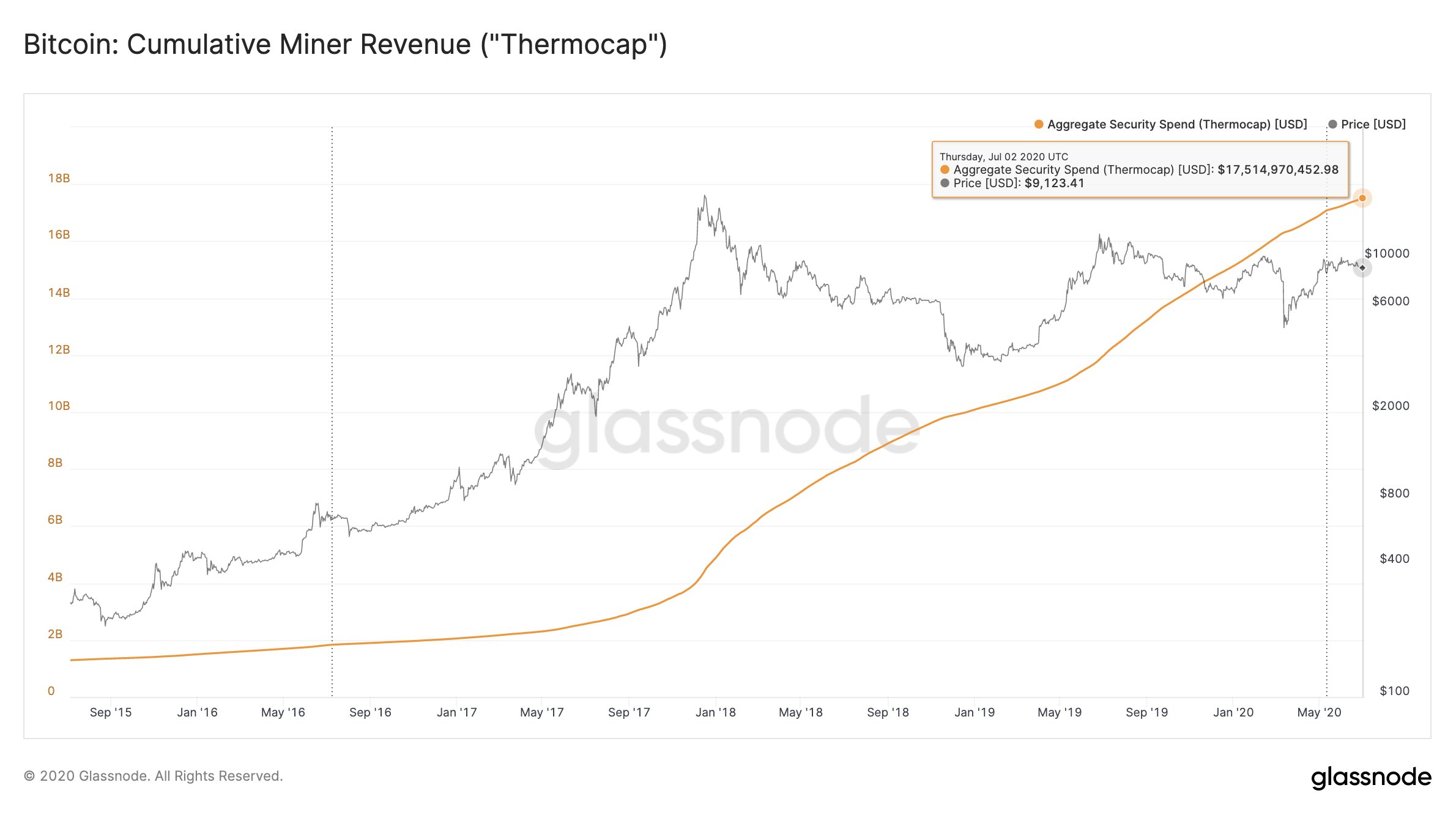 The cumulative Bitcoin miner revenue crossed $15 billion just late last year and is growing rapidly. Miners are still continuing to expand their operations as The Crypto Associate reported on Marathon Patent Group's deployment of 700 Bitcoin ASIC miners.
Miner Revenue Declines
However, miner revenue has declined significantly since the Bitcoin halving event in May, which slashed the Bitcoin block reward from 12.5 Bitcoin to just 6.25 Bitcoin.
With Bitcoin block rewards halving, miners are becoming increasingly dependent on Bitcoin transaction fees. Shortly after the Bitcoin halving, Bitcoin network fees soared surpassing $5. However, fees have since normalized, dropping to pre-halving levels. On the other hand. Ethereum transaction fees have been on the rise decreasing the fee spread between the two largest cryptocurrencies.
Bitcoin Hash Rate
Despite the declining revenue following the halving, Bitcoin hash rate continues to climb to near pre-halving levels. At the time of press Bitcoin network hash rate is nearing an eye-water 120 EH/S.
The cryptocurrency is due for a significant difficulty adjustment as hash rate continues to pile onto the network. Mining difficulty helps adjust the block time to the intended ten minutes by increasing or lowering the difficulty based on the miners. With the new hash rate addition, Bitcoin's difficulty is projected to rise during the next difficulty adjustment in approximately the days.
Disclaimer: Content displayed on thecryptoassociate.com is not investment advice. Investors should do their own research before investing in digital assets or anything displayed on this site. The Crypto Associate does not recommend trading any sort of investment in cryptocurrencies and digital assets. The Crypto Associate is not responsible for any losses incurred due to the buying or selling of cryptocurrencies displayed on this site. All content is for informational purposes only. The Crypto Associate does not endorse, affiliate or represent any third-party links including advertisements. The Crypto Associate participates in affiliate marketing. Read the full disclaimer