Stablecoins Account for 80% of Ethereum Volume
Summary
Stablecoins account for 80% of Ethereum volume
According to Messari, a crypto data firm, stablecoins now account for 80% of total Ethereum transaction volume.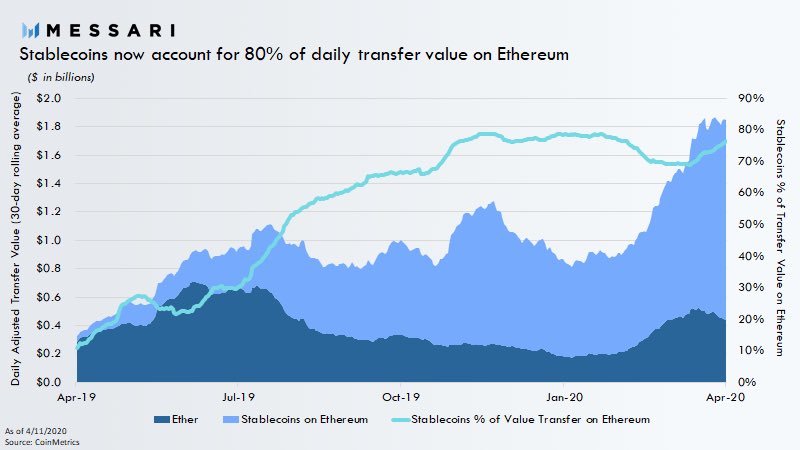 Stablecoins are cryptocurrencies pegged to a centralized currency, which in most cases is the US Dollar (USD). Popular stablecoins include Tether (USDT) and USD Coin (USDC).
However, stablecoins only work when they are backed by centralized currencies. Tether (USDT) has drawn controversy among the crypto community after minting over $480,000,000 in a single week without evidence of physical assets to back the new tokens.
Rise of Stablecoins
Stablecoins have seen a recent influx in users.
Firstly as cryptocurrency and blockchain technology go mainstream, financial institutions and governments look deeper into potential applications. As reported by The Crypto Associate earlier this week, the World Bank is now looking into financial solutions using stablecoins.
Stablecoins allow the use of blockchain technology while alleviating price volatility found in traditional cryptocurrencies. As a result, stablecoins have been the basis for central bank digital currencies, CBDC. Amid COIVD-19, China is rapidly testing the development of its CBDC with plans to take it live as early as next month.
Secondly, stablecoins provide an alternative risk-averse asset for crypto traders amid high market volatility. Over $3B in stablecoins are currently held on cryptocurrency exchanges. As a result, it is likely that many traders simply exited into stablecoins instead of fiat, as the crypto market crashed last month.
Stablecoins on Ethereum
The majority of stablecoins operate on Ethereum's ERC-20 smart contract platform. As a result, stablecoins do not have to depend on their own blockchain, but rather Ethereum's already massive and reliable blockchain.
Therefore, an increase in stablecoin use will directly benefit the Ethereum blockchain.
Stablecoin transaction growth picked up in Q3 2019, with the growth diverging against Ethereum's own transaction growth. The growth in stablecoin transactions continues to grow through Q1 2020, accounting for over 80% of Ethereum's daily transaction volume. Furthermore, as stablecoin adoption increases, daily transactions and use of the Ethereum blockchain will follow.
Content displayed on thecryptoassociate.com is not investment advice. Investors should do their own research before investing in digital assets or anything displayed on this site. The Crypto Associate does not recommend trading any sort of investment in cryptocurrencies and digital assets. The Crypto Associate is not responsible for any losses incurred due to the buying or selling of cryptocurrencies displayed on this site. All content is for informational purposes only. The Crypto Associate does not endorse, affiliate or repersent any third party links including advertisements.The Crypto Associate participates in affliate marketing. Read the full disclaimer