Number of Bitcoin Whales Reaches 2 Year High
Summary
Number of Bitcoin whales reaches 2 year high, replicating the 2016 Bitcoin halving
The number of addresses holding at least 1 Bitcoin reaches an all-time high
According to data provided by crypto data firm Glassnode, the number of Bitcoin addresses with at least 1,000 BTC (worth $6.9M), has reached a 2 year high. In other words, the number of Bitcoin whales reaches a 2 year high. This rapid influx of Bitcoin whales replicates the 2016 Bitcoin halving. The 2020 Bitcoin halving is happening in a little over a month.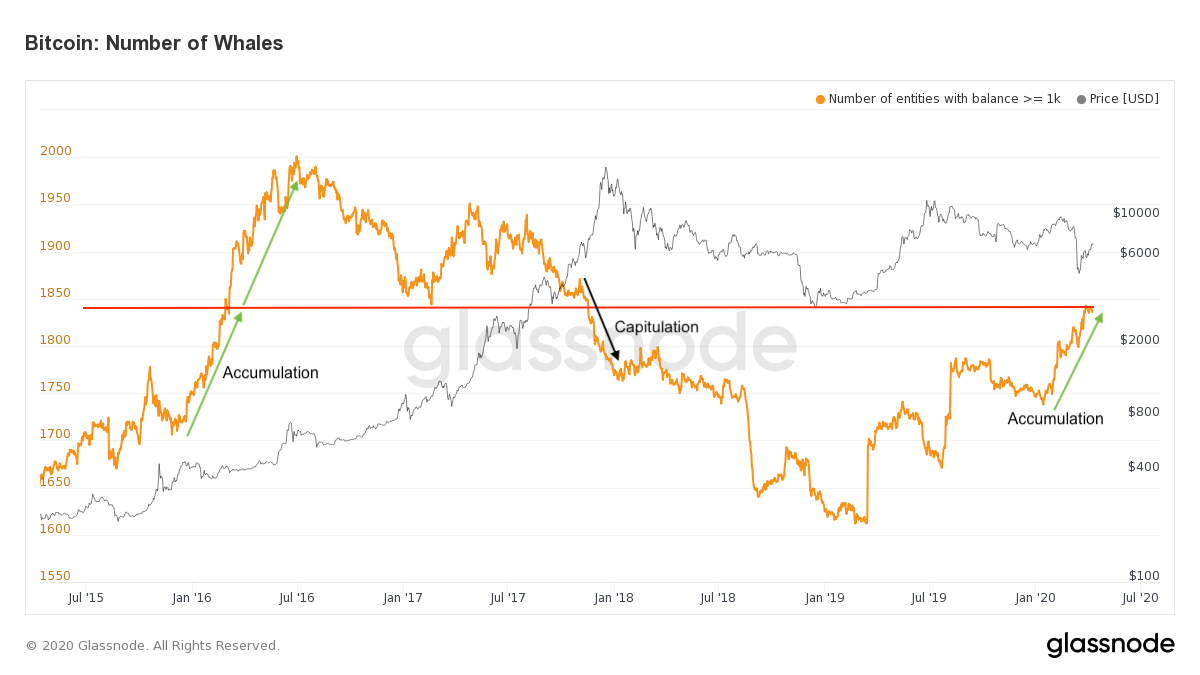 Cryptocurrency halvings are significant events as they alter the future emission of the currency. As a result, many whales may want to accumulate Bitcoin before the halving in hopes that the price will fluctuate. For example, the price of Bitcoin Cash plummeted after its halving which occurred a few short days ago.
Cryptocurrency Whales
Cryptocurrency whales are individual addresses that hold a significant amount of currency. These addresses are called whales as they will significantly affect the price if they decide to liquidaite.
Whales make large splashes and impact the sea around them as they swim through the ocean. By the same token, a cryptocurrency whale can create high volatility by significantly affecting the price.
This trend implies that despite an uncertain market environment, whales remain confident that now is a good time to be accumulating BTC, suggesting that they believe there is further room for growth.

Glassnode
Cryptocurrency whales can also signify major market movements, and thus the influx in whales can signify a dump or another rally. As a result, many look at whales to predict market movements.
Addresses Holding at least 1 Bitcoin
In addition to the increase in Bitcoin whales, the number of Bitcoin adresses holding at least one bitcoin has reached an all-time high
The number of unique addresses holding at least one Bitcoin shows that adoption is increasing. Combined with the fact that Bitcoin's price hasn't sky rocketed, it is reasonable to infer that cryptocurrency adoption is increasing. We believe that the next bull run will be based on technology and adoption, rather than pure speculation, and the growth of addresses holding at least 1 Bitcoin is a step in the right direction.
Disclaimer: Content displayed on thecryptoassociate.com is not investment advice. Investors should do their own research before investing in digital assets or anything displayed on this site. The Crypto Associate does not recommend trading any sort of investment in cryptocurrencies and digital assets. The Crypto Associate is not responsible for any losses incurred due to the buying or selling of cryptocurrencies displayed on this site. All content is for informational purposes only. The Crypto Associate does not endorse, affiliate or represent any third-party links including advertisements. The Crypto Associate participates in affiliate marketing. Read the full disclaimer