Ethereum Transaction Fees Now Account For A Large Portion Of Miner Revenue
Quick Read
Ethereum transaction fees are becoming a larger portion of Ethereum miner revenue.
Ethereum daily transactions soaring to levels last seen in January 2018.
Ethereum, the second-largest cryptocurrency by market cap, has been rallying, crossing $400 for the first time since 2018. Simultaneously, Ethereum miner revenue from transaction fees has been rapidly rising. According to a tweet by CoinMetrics.io, transaction fees now account for 30% of total Ethereum miner revenue.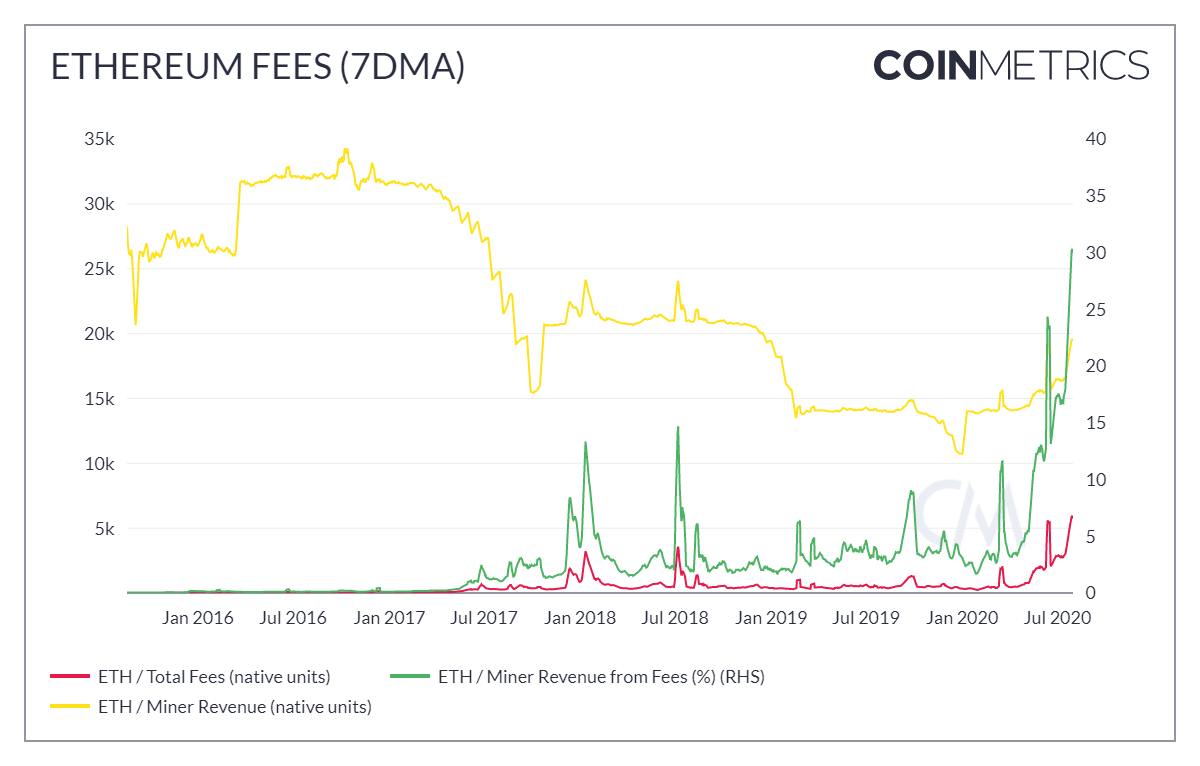 Ethereum transaction fees are paid to miners that help process and validate transactions on the Ethereum network. Users pay a certain fee to prioritize their transaction. Typically, a realtively lower fee will result in slower transaction confirmations.
Ethereum Daily Transaction Soar
The Ethereum network has also seen a surge in activity as the daily transaction count soars to levels not seen since January 2018. According to Etherscan.io, the current record for daily transaction count is 1,349,890 transactions on January 4, 2018 with yesterday's transaction count topping at 1,171, 556 transactions.
Decentralized finance (DeFi) is the application and integration of blockchain and cryptocurrency within the financial sector. As reported previously by The Crypto Associate, the decentralized finance ecosystem (DeFi) has been exploding this year. According to DeFi Pulse, there is currently over $4 billion locked within the DeFi ecosystem.
Cover image by Christoph Keil on Unsplash
Disclaimer: Content displayed on thecryptoassociate.com is not investment advice. Investors should do their own research before investing in digital assets or anything displayed on this site. The Crypto Associate does not recommend trading any sort of investment in cryptocurrencies and digital assets. The Crypto Associate is not responsible for any losses incurred due to the buying or selling of cryptocurrencies displayed on this site. All content is for informational purposes only. The Crypto Associate does not endorse, affiliate or represent any third-party links including advertisements. The Crypto Associate participates in affiliate marketing. Read the full disclaimer